Acoustic Panels
Natural Wooden Acoustic and Deco Panels
Beautifully looking wooden acoustic panels with the added benefit of superior sound absorption. Each panel is faced with real wood veneer offering the color and grain variations of natural wood. Wooden Acoustic panels will fit perfectly in a variety of interiors – both as a wall or ceiling finishing material. Use it as decoration for room fragments or as furniture decoration. There are no limits to the use of the panel.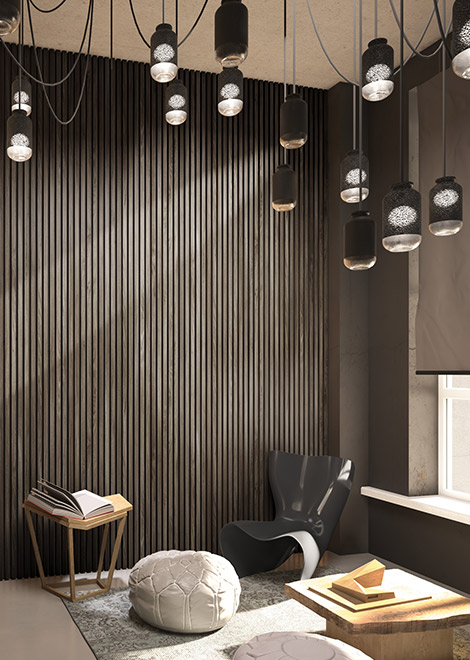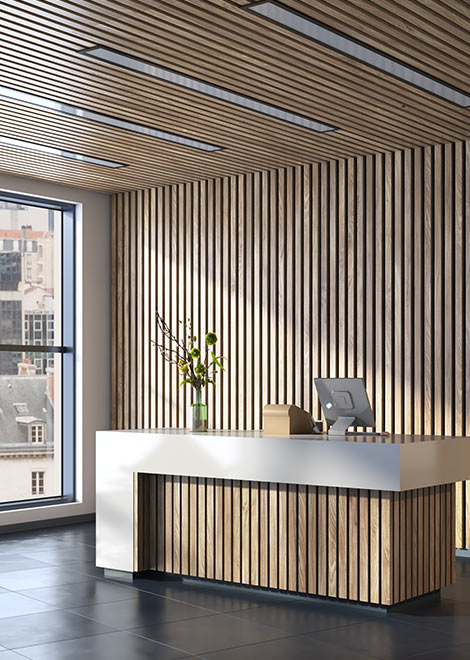 ACOUSTIC PANELS
Information & Prices
Panel Dimensions
The standard size of a wooden acoustic panel is 2400x600x22 & 3000x600x22 mm. 

Composition & Structure
The base of the product consists of a 9 mm thick (total size: 2400x600x22) black or gray polyester base material obtained from a plastic recycling process. The material is certified in accordance with the requirements of GRS (Global Recycle Standard). Does not contain substances harmful to health (eg formaldehyde, pentachlorophenol). Corresponds to fire resistance class B-s1, d0. The decorative part consists of 12 mm thick MDF / Plywood strips, which are clamped to the base of the polyester base. MDF strip length is 2400 mm, width – 27 mm
Price
From €150 per sqm supplied and installed.

Private Space
Walls / Sealing
Kitchen / Dinning Room
Bedroom
Living Room
Home Theater
Lounge
Entrance Halls
Meeting Rooms
Home Office
Just a home decor

Commercial
Conference Rooms
Meeting Rooms
Receptions
Office Decors
Chillout Areas
Interview Rooms
Showrooms
Halls & Hallways
CEO Offices
Sales Offices

Special
Concert Halls
Libraries
Classrooms
Auditoriums
Churches
Schools
Airport Terminals
DJ/ Recording Studios
Gym's
Restaurants / Bars